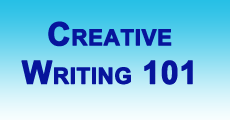 Creative writing is any form of writing which is written with the creativity of mind: fiction writing, poetry writing, creative nonfiction writing and more. The purpose is to express something, whether it be feelings, thoughts, or emotions.
Rather than simply giving information or inciting the reader to make an action beneficial to the writer, creative writing is written to entertain or educate someone, to spread awareness about something or someone, or to simply express one's thoughts.
But there are two kinds of creative writing: good and bad. Bad creative writing cannot make any impression on the reader. You don't want to do that, do you? Of course not. So whether you're a novelist, a poet, a short-story writer, an essayist, a biographer or just an aspiring beginner, you'll want to perfect your craft. But the question is: how?
When you write great fiction, poetry, or nonfiction, amazing things can happen. Readers can't put it down. The work you wrote becomes a bestseller. It becomes famous. But you have to reach to that level… first.
The best way to increase your proficiency in creative writing is to write, write compulsively, but it doesn't just mean write whatever you want. There are certain things you should know first… it helps to start with the right foot.
So here you have it, a beginners' guide:
For novelists: do you want to write compelling opening chapters?
Are you an aspiring novelist? Will your novel see the light of day? For that, you will need to make the first chapter of your story as compelling as possible or readers will not even pick up your novel. That chapter can be the deciding point that whether your novel is published or not. Because good editors know how you write just from the first three pages… or sometimes even from the opening lines.
To solve this problem, I created a 5 part tutorial on Writing Compelling Opening Chapters. It outlines why you need to write a compelling opening chapter, my personal favourite way of beginning it, what should be told and shown in it, general dos and don'ts and what you need to do after having written it. Check it out for more.
Need more writing tips?
Sometimes you reach that stage when you outgrow the beginner stage of creative writing but feel that you're not yet an expert. If I just described you, no worries–Writers' Treasure's writing tips are here. Whether you want to make your writing more readable, more irresistible, more professional, we've got you covered. So check out our writing tips, and be on your way to fast track your success.
Services
I offer writing, editing and proofreading, as well as website creation services. And that's what I offer, since even though I don't call myself an expert, I've been in this field for six years, I've seen the directions where the writing industry is going, the changes, the new platforms. Get your work done through me, and get fast and efficient service. Get a quote.
Free updates
Get free updates from Writers' Treasure and learn more tips and tricks to improve your writing.